The Details
Release Date
19th October 2018 (UK VOD Premiere) 29th October 2018 (UK DVD Premiere)
Synopsis
Antwerp. The lives of four dealer friends, who want to become real life swaggers, spins out of control when they steal a shipment of cocaine. They trigger a full out war between them, an Amsterdam drug lord and the ruthless Colombian cartels.
Director
Adil El Arbi, Bilall Fallah
Starring
Paloma Aguilera Valdebenito, Eduardo Almeida, Ali B.
In their 1992 hit, the Geto Boys rapped about how good it feels to be a Gangsta. But see past the listing of the materialistic positives that come with the territory, the overriding message for prospective members of street collectives is to stay humble. They claim real gangstas don't start fights, run their mouths or, ahem, 'flex nuts'; their reputation will do that for them. It's advice that the hapless wannabes in Adil El Arbi and Bilall Fallah's hyper-stylised Gangsta should have heeded.
Tired of only being a small-time drug dealer, Antwerp stoner Adamo (Matteo Simoni) makes the rather foolish decision to steal a shipment of cocaine from his new employer Orlando (Werner Kolf), one of Amsterdam's biggest suppliers. Along with three of his friends, his plan is to make more money by selling the same premium product for a much cheaper price. Surprisingly, it works and the foursome begin living the criminal high life that they've seen so many times in the movies.
It's not long though until Orlando's diminishing financial returns alert him to something being amiss. Now with one of Adamo's female friends Badia (Nora Gharib) on his arm, Orlando tears through the city looking for the culprits, with one suspicious eye firmly on Badia.
The group continuously escape being caught by the narrowest of margins, but an indulgent trip to Morocco sparks an all-out war between them, Orlando and Columbian cartels. Well and truly out of their depth, how long can the criminal quartet survive when up against the type of people they attempted to be?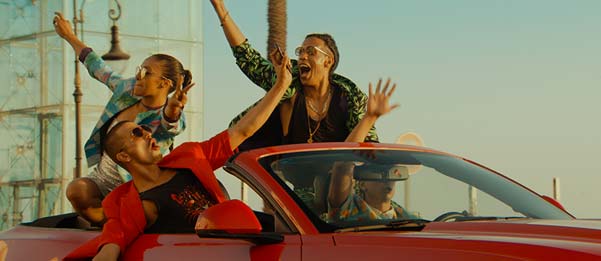 Told in seven acts named after the Biblical Deadly Sins, Gangsta prefers style over substance. Garish graphics overlay most scenes and blinding fluorescent colours with rapid-fire editing make for an occasionally dizzying watch. Not that this is a criticism at all – the resulting effect is assumedly deliberate to replicate a similar high given from the product that the players involved are selling. This world is clearly a playground, with shipping containers turning into a neon-drenched game of Tetris and unconventional jumps in storytelling keeping you on your toes at all times.
This priority of visual flair comes at the expense of any real substance to the film and there's little to no emotional connection to any of these crooks, but performances are ludicrously over-the-top to add a welcome touch of comedy to the picture. Pop culture references are littered throughout, especially Brian De Palma's Scarface, a character who is undoubtedly a role model for the four friends. Tony Montana is a huge figure for these guys, seemingly a character worth moulding their lives around. Clearly, they didn't watch the film in its entirety.
But at over two hours long, Gangsta's admirably energetic pace works at odds with its extended length. By the time the credits roll (for the second time), slight fatigue at its hyperactivity sets in. Nevertheless, it's hard not to respect it for its unending desire to keep you entertained. If Gangsta is anything to go by, El Arbi and Fallah next project Bad Boys for Life could be one of the few franchises where the third movie is better than the previous two.
We Liked
Endlessly energetic
Playful World of unconventional narrative jumps and visual flair
We Didn't Like
Lacks any real substance
Two hour length works against its relentless pacing