The Details
Release Date
14th September 2018 (UK)
Synopsis
Lucky is an old US Navy veteran of rigid habits and attitudes in a small town. When his routine is interrupted by a sudden collapse at home, Lucky finds himself realizing that his remarkably healthy old age is going to face an inevitable decline and he has to accept it.
Director
John Carroll Lynch
Starring
Harry Dean Stanton, David Lynch, Ron Livingston
Harry Dean Stanton. A name etched in the minds of the cinephile, the genre fiend, and the cult connoisseur. But perhaps a bit of a head-scratcher for the mainstream moviegoer. However if you scroll and view the images below, the distinctive gaunt face of Mr. Stanton may be immediately recognisable as that guy.
Appearing in films since the late 50s, Harry Dean Stanton has over 200 credits to his name, being one of those memorable few actors to surprisingly pop up in just about everything. Maybe you recognise him as "that guy from Alien" or "him from The Green Mile". Maybe you've spotted him in Escape From New York or Pretty in Pink. Or perhaps your only exposure to the late, great actor is a charming cameo in the 2012 blockbuster Avengers Assemble. Wherever you've seen him or however you know him, Harry Dean Stanton always brings the goods. Do you think he's about to change in his swan-song performance Lucky?
Not a chance.
Directed by longtime character actor John Carroll Lynch, Lucky follows a healthy old man coming to terms with his on mortality. Feeling scared and alone for the first time he begins to question the meaning, or lack thereof, of life.
There's very little plot unfolding in Lucky: it's a gentle film filled with conversations in bars and crosswords at diners. The titular character wanders from place to place, meeting friends new and old, and seemingly having conversations about nothing too important. But of course, the topics on the lips are ripe with subtext.
These are often very humorous, especially with the case of Lucky's friend Howard (David Lynch) whose pet tortoise President Roosevelt ran away from home and being beyond devastated, he just can't give up a rescue search. Whilst being the butt of many jokes, the film turns the light humour into something rather meaningful as we're shown what a key effect this tortoise had on Howard's life.
Another strand follows Lucky buying milk and cigarettes routinely from a local Mexican store, and eventually being invited by the clerk to her sons 10th birthday party. Doesn't sound all that exciting, but what Lucky finds there after initially being hesitant is his forgotten passion for mariachi music. It's a sequence where Stanton absolutely shines, and it could genuinely stand as the finest moment of his very long career.
Stanton's performance is nuanced, detailed and whip crackingly sharp with humour when it wants to be. He's utterly brilliant to watch, grouchy throughout but never too far away from a winning smile. There is not a single moment where he doesn't live out the character to its fullest potential.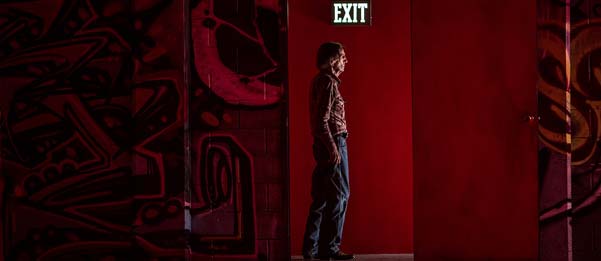 The supporting players all do a fine job too. Whether it's Lynch bringing eccentric Howard to life or Yvonne Huff's sympathetic waitress Loretta letting her hair down with the old geezer, everyone has a moment to own a scene and make an impression on both Lucky and the audience. It was also particularly delightful to see Stanton reunited with Alien co-star Tom Skerritt in a sombre scene where they trade war stories.
Finely framed and photographed, John Carroll Lynch proves to be a worthy director, knowing just how long to linger on an actor to get the most out of them. The music by Elvis Kuehn is simple but very suited, almost feeling like its being performed by the protagonist himself. The general vibe of the whole production being one of passion and heart.
I personally don't have anything negative to truly say about Lucky. It's difficult to summon any criticisms other than the film simply doesn't work if you're looking for something fast paced and exciting. If so then this gentle breeze of celluloid certainly isn't for you. Some confusing symbolism is peppered throughout scenes, but this could easily be remedied on repeat viewings, which I think will be the case.
Lucky is the last curtain call for the great Harry Dean Stanton, and what a perfect call it is. A final bow that somehow manages to encapsulate everything this man was great at.
We Liked
Perfect swansong for the late, great Harry Dean Stanton
Gentle tone and pace