We recently had the opportunity to speak with director Jake Nielsen about his new short film On Hold, a brilliant half hour musical from Australia that's currently making rounds on the festival circuit.
Already qualifying for Oscar consideration thanks to its Best Australian Short Film success at  the 2018 Flickerfest event, On Hold stars Madeleine Jones (Harry Potter and the Cursed Child) as Gabby, a "head in the clouds" kind of girl who has to choose between following her dreams and making next weeks rent.
In our conversation, we talk with Nielsen about how the film went from conception to reality, how the songs were constructed from scratch, and what Nielsen truly thinks of how short films are consumed.
On Hold is very relateable to anyone who feels bogged down by life, perhaps especially to those struggling creatively. How much of your own experiences trying to get projects off the ground found their way into the film? And if so, did that make filming a cathartic experience?
I was writing the film when working at a call centre after graduating. Initially, catharsis was the only reason for writing it. I needed an outlet from the living hell of working for this terrible company. Writing the musical meant that every time something ridiculous, humiliating or enraging happened, I knew I could make something of it in the film, or at the very least get it out of my system. Some of the things in the film are direct lifts from my experiences but a lot are from stories I heard or things witnessed. Finally shooting it and editing it felt like the final stages in a life-changing and therapeutic experience.
What was it about the musical that made you want to explore these ideas of lifelong dreams vs practicality? Was it freeing, or were there times you felt restricted by the genre?
I love working within the musical genre cause it has the ability to shortcut the analytical brain and reach our emotional instincts faster. The themes of the film have their basis in emotions and the way we feel about things. Using the musical genre to explore these is very freeing, it provides a release. Musicals are basically the complete opposite of corporate in every way.
The ideas in the film have also been discussed in pop culture in many different ways before, and so using the musical genre to express these specific ideas helps us achieve a unique emotional resonance and nuance in our treatment of the subject matter.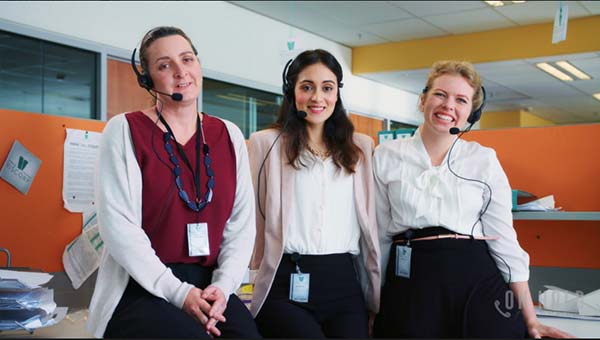 My personal favourite song was during the toilet stall sequence; it's playfulness, the sharp editing, and Madeleine Jones performance really came together to create a wildly entertaining scene. What is the process like to create these original songs, and this one in particular, from scratch?
Well, the scene is basically the protagonist Gabby, masturbating in the bathroom stall instead of working. I wanted to cover this scene as a song because I haven't seen it done before. In the process of creating musical songs, you take what you can from the content, and that dictates the form the song takes. In this case, we needed a driving rhythm that would build up, come down, then build up again, the pace of the lyrics needed to represent the sporadic, pinball nature of Gabby's distracted mind and the orchestrations needed to help the audience understand the mental and physical journey the character was on. My writing Partner Matt Predny and I actually re-wrote the orchestrations after discussing the differences between the male and female orgasm with Madeleine, to more accurately represent the nature of it.
The cast all do a wonderful job singing and dancing, especially Madeleine Jones. But everyone retains a sense of normality; that they are still just ordinary people like you or me. Was that intentional, and if so how important was that to the core of the film?
I think its very important to the core message of the film because despite using the musical genre, we still wanted to reflect relatable, everyday experiences. As the aesthetics and music push beyond realism, it was important that we made sure the scenes and the characters retained their realism. we wanted the spoken word scenes to feel real and the characters to reflect hyper-normal individuals we all recognise.
I'm curious to hear your opinion on short films and how they're viewed. I think it's unfortunate that short films aren't often as widely seen as their full-length feature counterparts. Do you feel there aren't enough platforms, or places to view short films?
I don't feel like there are quite enough. Festivals are great places to view short films but they aren't overly accessible and can be limited in their ability to reach a larger audience. There need to be more places for shorts to go after their festival runs. With the rules of content length and presentation changing so rapidly, I think we will see more of this.
Are there any upcoming projects you're working on that can look forward to seeing?
Matthew Predny and I are working on the music and lyrics for the feature film version of a musical we wrote with Madeline Clouston (Sophie in On Hold) called "Miss Westralia". It covers the untold true story of Beryl Mills, the first Miss Australia.
For more information about On Hold, its cast & crew as well as details of upcoming screenings, visit https://www.onholdmusical.com/ or the film's official Facebook page. 

We speak with makeup artist Donald Mowat about his work on First Man, the effects of CGI on his role and the lengths Jake Gyllenhaal goes to for a role.

To coincide with the release of heartwarming British family drama Dusty & Me, we caught up with its lead star Luke Newberry. Luke, who made a name for himself in the BBC series In The Flesh talks with us about his character, whether it's really as difficult to work with animals as the saying goes and the pressures of performing when […]

We chat to Charles Williams about his Palme D'or winning short film All These Creatures where he talks about specific casting choices, his future and bugs.