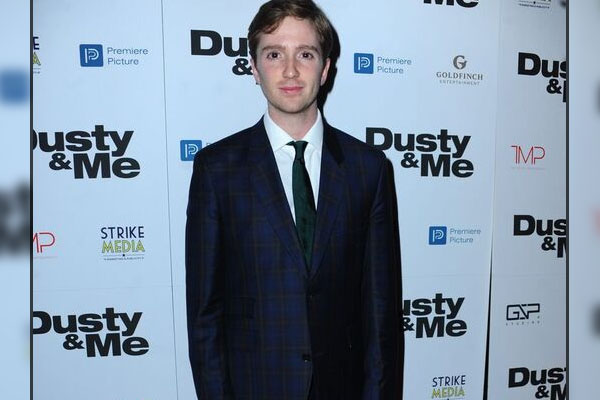 To coincide with the release of heartwarming British family drama Dusty & Me, we caught up with its lead star Luke Newberry.
Luke, who made a name for himself in the BBC series In The Flesh talks with us about his character, whether it's really as difficult to work with animals as the saying goes and the pressures of performing when the eyes of the world are on you. 
*****
A common industry warning is to never work with animals or children. Did you find this to be true, considering your co-star was a canine?
No, I had the best time working with these dogs! Two sisters called Ladybird and Snowflake. I was waiting to discover they weren't real – some loose wiring or a remote control. They were perfect.
One of my favourite aspects of Dusty & Me is the set design and immersion into 1970's Yorkshire. Having not lived through it yourself, is there any method you use to insert yourself into a time period that is dramatically different from modern day?
I love the design. The set was so realistic and detailed that it felt like we'd be transported back in time, so I had to do very little. My dad and Uncle were a similar age to Dusty in the 70's so I looked at old photographs. I looked just like them with exactly the same outfits! Ben Smith (production designer) Lance Milligan (costume) and Catriona Johnstone (hair and make up) did an incredible job, and together we found all of Dusty's many looks – it was really collaborative, and their work fantastically detailed.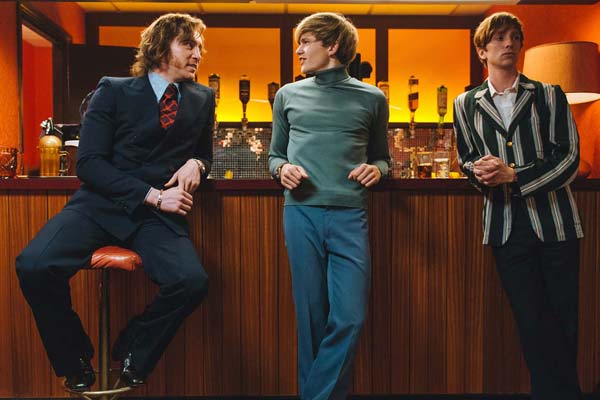 Your character, Dusty, feels like an outcast due to his intellect levels in a working class family that admittedly doesn't fully understand him. Your performance is wonderfully introverted and genuine. Is the lack of support or misunderstanding of your emotions from family something that you experienced in your own upbringing and therefore could tap into it easier than most?
Thank you! No I think I've actually got the most supportive parents you could possibly ask for. Nothing like Dustys experience. What I could relate to was feeling like a bit of an outsider at school. I was state educated and kids there thought I was 'posh'. I think it was because I didn't have the Devon accent. I am into films with subtitles – just like Dusty!
There's some serious, long serving talent involved with Dusty & Me, including the sublime Iain Glen (Game of Thrones, Resident Evil franchise), Lesley Sharp (The Full Monty) and Ian Hart (Harry Potter and the Philosophers Stone). Was there any advice they gave you seeing as though you're at the beginning of the climb of your acting career?
All of them were fantastic. It's such an incredible cast of actors. I certainly learnt a lot watching them work. When they told me Lesley Sharp and Ian Hart would be playing my parents I couldn't quite believe it. Ben Batt as my brother was a joy to work with- And Iain Glen is a genius!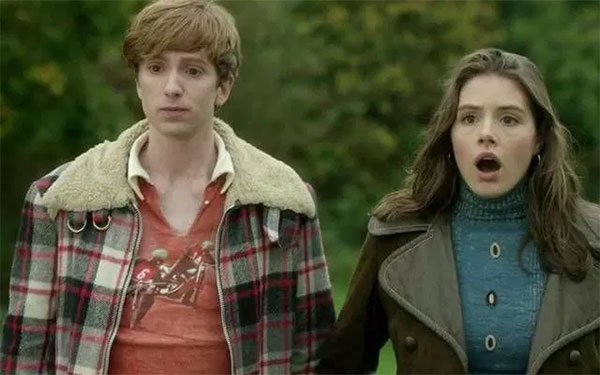 You star alongside the lovely Genevieve Gaunt (Harry Potter and the Prisoner of Azkaban, The Royals) too and the chemistry between you both is a joy to watch. How do you go about creating such a natural on-screen partnership? Do interactions with other cast members help or hinder you when it comes to the time to film?
Genevieve and I got on so well- it was really easy. Our chemistry was very natural. We had a real giggle and we'd often set each other off! She's such an open lovely person – and a huge talent. We'd be together most of the time off camera, so when it came to filming the scenes it felt very genuine and quite seamless.
Dusty & Me is a thoroughly British feel-good film. As a British actor yourself, is the allure of a move to Hollywood always there, or do you intend to aim to predominantly work on projects close to home?
I'm not sure I've ever really thought of moving there, but I would love to work there because of my interest in American drama. I've been lucky enough to do three American plays here in London, and I love the idea of doing an US-set indie film. Though there's really great drama being produced here at the moment.
Speaking of Hollywood, you've had a small role in Harry Potter and the Deathly Hallows Part 2. How different is filming a big-budget project such as that compared to the likes of Dusty & Me?
The way it's shot is all fundamentally the same- except your trailer might be a bit more fancy on a big budget production! I loved the intimacy of it, and working closely with fantastic Betsan Morris Evans. She had so much energy – she was totally in her element on set. I think maybe the difference is you can sometimes feel further away from the director on a big budget film. But I've not had much big budget experience really.
You recently also starred in the re-imagining of Shakespeare's Macbeth with Christopher Eccleston. How was that experience? The show was also streamed live to cinemas around the country. How do you go about alleviating that added pressure of knowing there's thousands of others watching other than the few hundred in the theatre?
I've loved playing Malcolm. Polly Findlay is one of my absolute favourite directors to work with, and I've loved being part of a company for such a long period of time. It's more or less the same for us onstage as there's still a live audience with us, but strange to think of it being watched in cinemas too. I tried to ignore the cameras and not think about it too much!
Dusty & Me is now available to buy through the iTunes, Amazon, Google, Microsoft, Sony, Vubiquity, BT, Sky Store platforms.