The Details
Item Reviewed
To The Stars
May 31, 2020
Release Date
1st June 2020 (UK VOD Premiere)
Synopsis
Under small town scrutiny, a withdrawn farmer's daughter forges an intimate friendship with a worldly but reckless new girl in 1960s Oklahoma.
Starring
Kara Hayward, Jordana Spiro, Tina Parker
Set in the small town of Wakita, Oklahoma (also seen in the 1996 hit disaster movie Twister) To The Stars follows the blossoming friendship of outcast Iris (Kara Hayward; Moonrise Kingdom, Isle of Dogs) and the town's newest resident Maggie (Liana Liberato; If I Stay). More likely to be found with her head in a book than with a group of people, Iris is the focus of bullying and ridicule for the bored popular kids at her school. There isn't any respite from the abuse at home either. Stuck with an alcoholic mother Francie (Jordana Spiro; Rachel in Netflix's crime drama Ozark) who believes her pregnancy was the reason she never achieved her dreams and a quietly supportive but largely absent father Hank (Shea Whigham; First Man, Death Note), Iris find solace every night in swimming alone at a nearby lake.
Enter Maggie. She's moved to Wakita for her dad Gerald's (Tony Hale; Toy Story 4, Arrested Development) job as a photographer for Time Magazine. She's loud, confident and the polar opposite of Iris' meek disposition. And yet, Maggie takes quite the shine to Iris. The pair quickly become friends, sharing evenings at the lake and bringing out the best in each other. But there's a secret behind Maggie's infectious smile and her reason for moving to town. A revelation that threatens not only the pairs friendship, but one that could upend Maggie's seemingly peaceful family life.
To The Stars is very much a grounded picture. It's driven forward by its characters and their relationships. Fortunately these are – on the whole – always engaging to watch. Chiefly, Maggie and Iris' connection naturally unfurls and is handled delicately. Unfortunately, the time invested in the pair culminates in a hasty and unsatisfying finale, one that is ill-fitting of the events that proceed it. It really is a shame that melodrama takes precedence in the closing moments over what was an organic and genuine simmering coming-of-age drama.
Still, To The Stars features two leads that have a shining future ahead of them. Kara Haywood's Iris is no doubt the focus of the film and Haywood handles the responsibility confidently. There's very little depth to shown to Iris' stereotyped character traits beyond her eyes-to-the-ground, hunched shoulders, thick glasses and disappointed mother. Nonetheless, Haywood steps up to the plate and makes the most of the moment. On the flip side, Liana Liberato's introduction as Maggie literally rocks the town. Wakita's seen nothing like her before and everyone is amazed at how she carries herself. Liberato should very much be the headline name here and displays an overwhelming range of emotions, all of which are successfully authentic, in her portrayal of Maggie.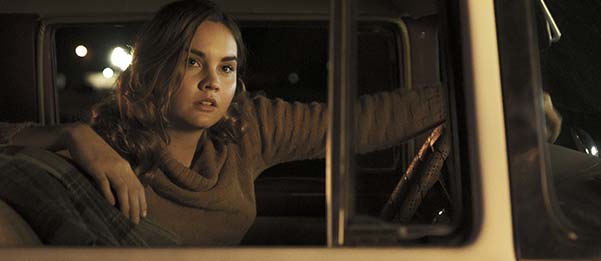 I was hoping to see more of Maggie's backstory, which is infinitely more interesting. Her home life is a far cry from the perfect picture she paints out, but we only get glimpses into the struggles she faces. Even so, these brief moments are standout in To The Stars,  with Tony Hale as her father Gerald being an especially notable performance. Usually seen in comedic roles, Hale is silently terrifying as Maggie's strict dad Gerald. Going back to Iris' upbringing, it's refreshing to see the mother being the offending party as opposed to the oft-overused male of the household. Jordana Spiro is fantastic in this role and is ably aided by Shea Whigham as Iris' dad. He's another intriguing figure which I hoped the film would shed more light on, but is added to the pile of missed opportunities.
To The Stars is as much about the mentality of Small Towns in America in this time period as it is about the people living in them. Families lived by the idea of the man going to work while the wife stays home to cook and clean. Anything that strays from this is an affront to everything that's decent. What would the neighbours say? This lack of progressive thinking affects Iris and Maggie in different ways and ultimately tinges the picture with a rather sombre aura.
To The Stars voices the importance of staying true to yourself in the face of incredible adversity. It boasts two first-rate performances in Liana Liberato and Kara Haywood as well as a supporting cast with no weak link. It's just regrettable that its final moments feel the need to loudly shout out a message which was cleverly and softly inferred for us to pick up on ourselves.
To The Stars is available to buy on iTunes, Amazon, Google Play, Sky Store, Virgin and Chili from 1st June 2020.
We Liked
Two fantastic leads and no weak link in supporting cast
Important message of staying true to yourself
Visually pleasing recreation on 1960's American small town
We Didn't Like
Closing minutes of the third act don't fit with the rest of the film
Would have benefited from delving deeper into Maggie's homelife