The Details
Release Date
25th May 2020 (UK Blu-Ray Release), 1st August 2013 (South Korea Premiere)
Synopsis
In a future where a failed climate-change experiment has killed all life except for the lucky few who boarded the Snowpiercer, a train that travels around the globe, a new class system emerges.
Starring
Chris Evans, Jamie Bell, Tilda Swinton, John Hurt
Travelling by train can be a nightmare experience. Even if you pre-book a seat, there's a high probability someone's already sitting in it. You can't even sit next to your assigned seat due to the imposter putting their hefty bags there. On the days you don't have the energy to argue, you trudge back to the end of the carriage, where the air in the only available spot smells like you've got your head in the uncleaned toilet bowl. To rub salt in the wound, your standing spot in perfect view of the completely empty First Class section. Still, there's always two positives to this scenario. One, it's only for a few hours. Two, it's not a National Express coach journey.
Unfortunately for the passengers aboard Bong Joon Ho's Snowpiercer, this service will not be stopping at any station. It's on an endless journey around the World and exists because of a catastrophic failure of Earth's climate. Outside is an unlivable frozen wasteland. The few who made it onto the train have fallen into a class system. Those at the front live a life of luxury, while the people who inhabit the back live in squalor and fear of the armed guards. One such peasant passenger, Curtis (Chris Evans; Avengers: Infinity War, Captain America) has had enough. He's planning an uprising, with the aim of getting to the nose of the train. Specifically, The Engine and the vehicles owner, the enigmatic Wilfred (Ed Harris; mother!, The Abyss. Aided by his second-in-command Edgar (Jamie Bell; Rocketman, Man on a Ledge), a drug-frazzled security advisor and a spiritualist figure in Gilliam (John Hurt; Tinker Tailor Soldier Spy, Alien), Curtis and his band of not-so-merry rebels face incredible challenges on their fight to the front.
Originally premiering at South Korea's Times Square Shopping Mall in 2013 before eventually getting a wide release in 2014, Snowpiercer didn't actually get a proper UK release until 2018. For the first time, however, it is now available on Blu-Ray through Lionsgate. The timing couldn't be more perfect too, with director Bong Joon Ho riding high on his 2020 Best Picture Oscar for Parasite. Both films deal with class divide but in very different ways. I'll refrain from making too many comparisons to the two in fear of doing a disservice to Snowpiercer's own merits, but they make for a fascinating double bill.
Think Gareth Evans' The Raid if the building was horizontal. And on wheels. It's easy to forget the film takes place on a perpetually moving train though. Every advancement of the gang leads to a fully-realised interior. From strobe-heavy nightclub to a serene garden and everything in between, Snowpiercer's production design is exquisite when it needs to be and utterly depressing in equal measures.
Chris Evans is predictably superb as ringleader Curtis. It's a character that isn't principally an individual, but more like an embodiment of the entire class he represents. As a figurehead, he's more than capable of carrying the weight and as an actor, Evans effortlessly bears such a responsibility. He rouses convincingly and you'd unquestionably join his team. Jamie Bell is a fine casting choice as the mischievous, headfirst into battle Edgar, while Tilda Swinton (Suspiria, Doctor Strange) is positively infuriating as Wilfred's mouthpiece Mason (who is inexplicably – and rather hilariously – of a Yorkshire descent) The late, great John Hurt oozes natural wisdom as the compartments oldest humanitarian Gilliam, with South Korean actor and Joon Ho favourite Kang-Ho Song decidedly untrustworthy as the train's security expert Namgoong Minsoo. Octavia Spencer (The Shape of Water, Instant Family) is always a welcome face to see and here she finds an especially personal reason to join the mutiny as desperate mother Tanya.
I'm torn with my final feelings towards Snowpiercer. I recommend it – highly – but still, it left me feeling like I'd stuck my head out the titular train door. I feel there's so much it wants to convey and even at over 2 hours not a whole lot of room to fit it all in, like a two carriage trip from Manchester to London on Cup Final day. Yes, it's fundamentally a commentary on social class, a topic that Joon Ho would go on to perfect with Parasite, but its drastic sub-zero climate setting is deliberate too. Then when we finally get down to the ins and outs of how the on-board class system works, a whole other barrel of bugs is opened. Now that it's widely available, and of course a 2020 TV Series, the questions it raises should spark a healthy, Thanos-esque debate as to whether there's method to Wilfred's madness.
Snowpiercer just about manages to save itself from completely derailing and buckling under its weighty narrative in its final minutes, but the same can't be said visually. Its CGI is significantly noticeable as we see more of the exterior of the pre-packed travelling World. It's not a dealbreaker, but it did take me out of the moment somewhat, as most of the sets and internal effects are practical based.
Blu-Ray Extras
Transperceniege: From the Blank Page to the Blank Screen – 54 Minute French documentary chronicling the journey of Snowpiercer from a 1982 Comic to the 2013 film. It's by far the most revealing of features, with interviews from the graphic novel artists and creators as well as archive talks with Bong Joon Ho himself. It's not a 'new' extra, as it was included in all the international disc versions of the film. But it has remained largely unseen in the UK until now.
Chris Evans and Tilda Swinton on Snowpiercer – 4 and a half minute featurette in which Evans and Swinton talk us through some of their feelings on the film, what it's like working with Bong Joon Ho and their take of what it'd be like to live on the train. Swinton sounds like she enjoys talking about it, but Evans comes across as incredibly bored of answering questions. It appears to have been filmed at the time of the films release rather than a new addition.
The Birth of Snowpiercer – Another 4 minute feature. A more in-depth look at the sets and some behind-the-scenes footage of how it all comes together. A few more talking heads, but this time they appear to be filmed during breaks of filming so the enthusiasm is still strong. It zips through VFX, Costume Design, Martial Arts Co-Ordinator and Hair & Make-Up section with blink and you'll miss it soundbites from those in charge of these areas.
The End of the World, and the New Beginning – A minute-long animated prologue narrated by train passenger Yona. It's is admirable in its attempt to put some backstory to the films but at 60 seconds doesn't come close to providing satisfying answers.
Characters – A five minute feature where the actors describe the people they're playing. There are a few tidbits of interesting information through anecdotes, but nothing that will change your opinion or understanding of any of the players involved.
Overall, the extras aren't anything special. Having taken seven years to make it to Blu-Ray in the UK, something more recently filmed would've been fantastic. Even if it was a short interview with Bong Joo Ho about how the film affected his career – if at all – in the years since. Nevertheless, the near hour-long look at its transformation from comic book to screen remains a fascinating look at the filmmaking process.
Snowpiercer

is on Blu-ray™ and DVD now from Lionsgate UK.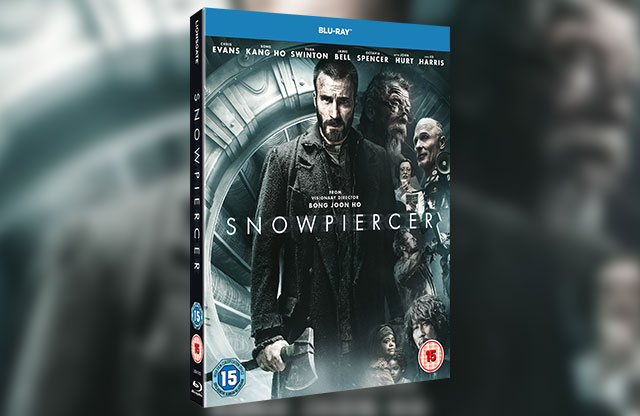 We Liked
A compelling concept and depiction of class division
Each carriages challenges are rewardingly different from the last
One of the strongest cast ensembles of the decade
We Didn't Like
Tries to cram too many ideas into a short vehicle
Sub-par CGI is slightly distracting towards the finale