The Details
Release Date
10th April 2009 (UK)
Synopsis
A reclusive, lonely boy falls for his new neighbour, a mysterious and deadly child vampire.
Starring
Kåre Hedebrant, Lina Leandersson, Per Ragnar
In my last review, I spoke about the increased geographical awareness of Hollywood in regards to alternative markets (specifically the East). However in the last ten years a different region of the world has emerged as a leader in creating sparse, nail-biting thrillers – Scandinavia.
These "Scandinavian Noirs", typically adapted from crime fiction, have especially taken root in television dramas, with the likes of The Tunnel, The Killing, and Steig Larsson's Millennium/Girl With The Dragon Tattoo series especially capturing Western attention.
Yet a year prior to the release of Noomi Rapace's tour-de-force performance as the eponymous tattooed girl, there was another such movie that almost slipped under the radar. A small scale romantic vampire movie set in 80's Sweden called Let The Right One In.
Adapted from the novel of the same name by John Ajvide Lindqvist, it differs from most modern vampire flicks. First, it isn't drenched in atmosphere and horror, nor does it feature high action or bloody spectacle. Second, and most significantly, the protagonists are kids.
Oskar (Kåre Hedebrant), a shy 12 year old loner, lives with his mother Yvonne alone in a small apartment block in suburban Stockholm. Bullied at school, Oskar fantasies about killing his chief tormenter, Conny, with the hunting knife he's hidden under his mattress. His knowledge of the macabre runs deeper still, as he collects newspaper clippings of murders and attacks in a little scrapbook. Like Taxi Driver's Travis Bickle, he is close to committing something terrible, unless his trajectory is to change.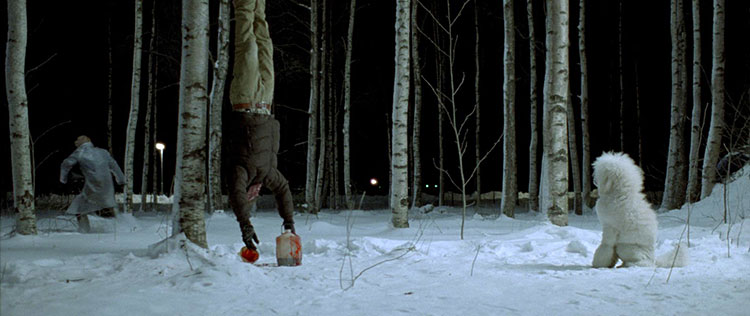 One evening a taxi brings and unusual pair to the block; an older man, Hakan, and a young girl, Eli (Lina Leandersson). They move their meagre possession (a few boxes) into the apartment next to Oskar's. Hakan immediately starts blocking out the windows of one such room, to the suspicion of the locals.
The newcomers are mysterious and solitary, with Hakan refusing to engage with any of the colourful locals. He is instead dedicated to Eli, seemingly like any good father or grandfather should be. But their relationship is different. He is her guardian, yes, but in wholly other ways. They exist together, almost wordlessly.
During the night Hakan leaves the apartment laden with a box of equipment – a plastic container, a funnel, a gas canister and a sharp knife. It's quickly made clear what he needs these tools for, as he overpowers a lone student at a bus stop. Dragged into the nearby woods, he's strung up by Hakan. Moments later his throat his slit, with the blood left to drain into the plastic drum beneath.
This is clearly a practised process. This is no romanticised hunt, nor is the selection of his prey specific. It is a murder of opportunity, but conducted out of necessity. Premeditated, without remorse of guilt. Hakan is far beyond that now.
However, he's interrupted by a dog walker (those pesky dog walkers), and he has to abandon the kill and the blood. Back at the apartment, Eli goes crazy. "Do I have to deal with this now!?" she growls in a voice that sounds chillingly unlike a young child.
Oskar, who can hear the row through the wall, heads outside to practise with his knife. His arena is the courtyard between three blocks of flats. In the centre is a jungle gym where he alone plays. The snow falls silently, and all is dark and quiet.
As he sticks his knife into a nearby post ("squeal piggy!"), he turns to see her stood on top of the jungle gym, watching him. Oskar, bundled in a woolly hat, jumper, jacket and boots (plus snivelling nose), fails to notice she is seemingly immune to the cold. She wears a simple shirt, cut off at the elbows.
She says she can't be his friend, and that he's to ignore her. Regardless of her warning we know they're going to be friends. It's kind of a sweet moment. This turns sour though when she simply jumps down from the top of the jungle gym (a good six foot in height) without so much of a thought.
The effect here is spooky. It's clearly wire work, but the juxtaposition of a small, fragile-looking girl moving in such a way works very effectively. The naivete of Oskar fails to identify the unusualness of Eli until much later in the film, whereas we immediately recognize the signs.
Vampire movies are such a part of the zeitgeist of popular culture now that we can easily identify the elements intrinsic to the genre. The aversion to sunlight, the need for blood etc. I can't imagine many people will watch this film not knowing it's a vampire movie, but it deals with the standard trappings in a very modern, very matter-of-fact way. She doesn't leap from the top of the jungle gym in an overly dramatic way. Instead, it's that lack of drama that makes it such a powerful introductory moment. Less is more, as they say.
Oskar is drawn to Eli, and during their next encounter, they share more details. They are both twelve (more or less, she admits), and both fascinated by puzzles. He loans her his Rubik's cube, and also confesses to the bullying at school (he was recently whipped on the legs, and cut on the face by one of Conny's goons). She urges him to resist, to hit back as strong as he can.
She leaves Oskar in the snow, as she ventures off to find prey. That prey is Jocke, a local lad who is returning from a night on the booze with his friends. Eli lures him in, playing on her "I'm a girl lost and alone" appearance, before leaping on him, draining him of blood, and twisting his head 180 degrees. This is witnessed by the local crazy cat man, who fails to alert the authorities out of fear.
Hakan, distraught that she has killed so close to where they live, heads out to hide the body. He manages to drag it away, secreting it under the ice of a local lake. Back at the apartment he prepares to go out again ("What else am I good for?") but begs her to "stop talking to that boy".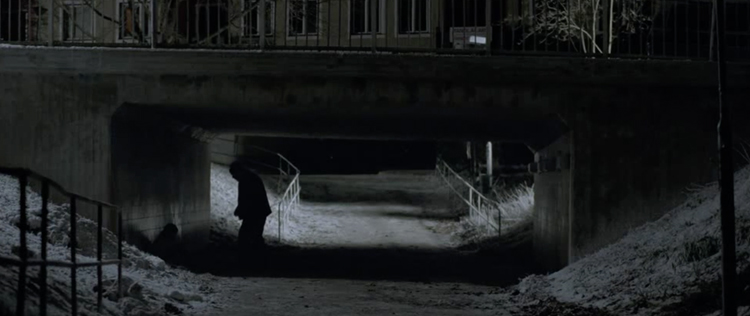 By this time the relationship between Eli and Oskar has deepened. Communicating through the wall of their rooms via Morse code, its clear Oskar has feelings for her. She warns him "I'm not a girl" when he asks her to "go steady".
Despite his intentions, Hakan fails once again to secure fresh blood for his ward. This time, trapped in the changing rooms of a local gym, he resigns himself to defeat. His final act is to douse himself in acid – so that his identity cannot be traced.
Climbing up the wall like Spiderman, Eli visits him in hospital. Wordlessly, his face disfigured and melted, he offers his neck to her. She feeds and he falls to his death, his last breath blown into the frozen air.
Now she is alone with no one to watch her during the day. Oskar has his own problems too; after standing up to Conny (smacking him the ear with a giant pole, to be exact), the bully's older brother becomes involved, and sets in motion a plan for his own revenge…
As I mentioned before, this is unlike most standard vampire films. While it exudes an uneasy atmosphere unique to itself, it runs counterbalance to how you'd expect your typically blood-sucking movie to run. The mise en scene is cold and minimalist. It is stark and clearly shot, with restrained movement.
Equally, the characters are not what you'd expect. They're not emotional, Twilight-esque wrecks, self-absorbed and tormented. They're wounded, yes, with issues, but not black and white archetypes. Eli is not evil, despite the acts she commits, telling Oskar that she kills out of necessity, not cruelty. He foolishly tries to argue the ethics, to which she counters that he himself wishes to kill Conny out of revenge for his years of abuse.
Another interesting angle is it's implied that Eli may not even be female. Comments such as "I'm not a girl" initially indicate she means she is a vampire. But in a brief moment where Oskar glimpses her getting changed, it's inferred she is instead possibly a castrated boy.
Her backstory, along with why Oskar's mother is estranged, is never explained. It's implied, and you're left to make up your own mind. The ending is equally open ended. This final sequence is, to me, the most potent of the entire film.
SPOILERS – Oksar aboard a train. At his feet a trunk from which Eli scratches Morse messages of love to him. It's at this point I realized that Hakan was Oksar – once a boy who had fallen for his vampire princess. This made Hakan's selflessness and his sacrifice all the more potent.
Like a Eureka moment, it made the entire film click for me.
Watching it again I see many parallels with the Netflix hit series – Stranger Things. However, while the friendship between Mike and Eleven is a dramatic and romantic one, neither character carries such dark burdens as Oskar or Eli. It doesn't glorify the nature of vampirism like in Lost Boys either. Instead, the supernatural here is dealt with in a very matter-of-fact way.
For instance, you've got her inability to eat food. Oskar buys her some candy, and is disappointed when she refuses. She relents "I guess I can try one". The way she holds it in her hand, knowing exactly what is to happen (she vomits it up). Another vampire, seldom-explored vampire weakness is their inability to enter anywhere uninvited. In a moment of childish cruelty, Oskar refuses to invite her into his house. It's a really sad moment, as she's there at his door, all cleaned up and smiling. The sad look of realization is genuinely heart breaking. Moments after entering without his permission she begins to bleed for all over her body, including her eyes. He quickly intervenes, inviting her to "come in, come in".
Another interesting departure from traditional vamp films is the fact you never see her fangs. Instead, during moments of intensity (such as thirst or rage), director Thomas Alfredson (Tinker Tailor Soldier Spy) over dubs her voice with that of an older girl, or replaces her with an aged double altogether. The effect is incredibly unsettling.
One element I didn't feel worked so well was the sub-plot involving the locals. Clearly included as an allegory of small-town life (and how nosy people can be) I felt the characters to be too undeveloped to be relevant. It does lead to one woman being bit by Eli and surviving. She becomes a vampire herself. She is sent to hospital after a host of cats attack her (using dodgy CGI – the only really noticeable flaw in this otherwise outstanding movie). The following day an unwitting doctor opens the blinds revealing a bright, sunny day. The hapless woman is incinerated instantly.
This is only a minor complaint, however. Everywhere else the film succeeds. The acting from two youngsters is purely fantastic and to be commended at the highest level. Equally, the chiefly physical special effects are right on the money. The makeup is especially potent, along with the sound design.
Ultimately, the film is about the bond created by two unusual, lonely people. The burgeoning feelings between Eli and Oksar are beautifully realized in their interactions, and only heighten the drama of the scenario. While an interesting if utterly needless American remake (Let Me In) starring Chloe Grace Moretz mixed in more traditional horror elements, it ultimately failed to capture the dark beauty of this movie. Instead, Let The Right One In stands alone as a fascinating, original exploration of two well-trodden movie genres. Get it watched.
We Liked
Incredible performances from its' young cast.
A restrained and genre-defying production.
A beautiful, chilling romantic story.
We Didn't Like
Some bad CGI.

A pristine condition love letter to all things Giallo, the wonderfully probing Videoman will have you longing for the days of VHS rental stores, synth scores and neon signed nights.