The Details
Release Date
21st January 2019 (UK VOD Premiere)
Synopsis
Speedboat racing champion and multimillionaire, Ben Aronoff, leads a double life that lands him in trouble with the law and drug lords.
Starring
John Travolta, Katheryn Winnick, Jennifer Esposito, Matthew Modine
"It's the Wolf of Wall Street – on boats!" claims a suspiciously neutral poster quote from the trusted and reputable film journal known as the Sunday Sport in their review of Jodi Scurfield's feature debut, Speed Kills. Looking past the impossible logistics of such a premise, Speed Kills still is nothing remotely like this comparison. It's an unintentional hark back to the low budget 90s action movies that were housed in obnoxiously large and garishly coloured VHS cases which cluttered up video stores, but no one seemed to let any of the cast or crew in on the joke.
Based on the far more interesting true story of Don Aronow, Speed Kills stars John Travolta as Ben Aronoff (AKA, 'changed-name-for-legal-reasons-Don), a millionaire entrepreneur who moves to Miami to begin a new life racing (and eventually selling) speedboats. When his water-based business venture starts to sink he turns to the mob for help, as you naturally would when you're in a financial pickle, who demand that he uses his high speed vessels to transport drugs for them.
Travolta is part of a long list of stars in the twilight of their careers whose participation in a movie is solely to give some semblance of credibility to what would otherwise be a film played to already suffering insomniacs at 2AM on the depths of Free-To-View channels. Stallone is another one guilty of this, with his latest movie Backtrace not doing him any favours, but Travolta seems to be in a league of his own for accepting roles in movies that will someday be given away free with newspapers. Just last year, he appeared in one of the most critically reviled films of 2018, Gotti, and unfortunately Speed Kills continues his streak of movie misfortune.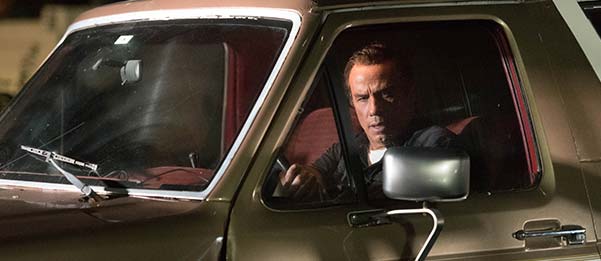 It's not entirely his fault though. Speed Kills never pushes the throttle forward on the pace or action, instead treading water in clunky dialogue and drowning in stock footage which harms the film more than helps it. The bulk of events occur in the 1960's and there's a sizeable number of montages featuring powerboat racing that happened around that time. When it cuts back to original material used to further the narrative, there's been minimal effort to capture the aesthetic of 60's Miami. So much so that when it leaps forward in time 20 years to the late 1980's, there's absolutely no difference in scenery or costume.Even Travolta's character looks exactly the same two decades apart.
Compromise in budget spending on the soundtrack is apparent too, with the majority of the songs sounding like royalty free ditties which wouldn't seem out of place blasting over the speaker system of your local discount supermarket who couldn't afford/refuse to pay the license for mainstream tracks. Robotic commentary for the thrilling-as-a-canal-boat-ride competition scenes sound like they've been lifted straight from the Nintendo 64 game Wave Race, as the commentators spew generic phrases about speedboats and their speed boating abilities.
It's hard to find anything positive to say about Speed Kills. Its second half, when the FBI and DEA arrive on the scene, is a noticeable improvement from its amateurishly filmed opening but that's hardly illuminating praise. What frustrates me the most about the whole thing is that there's every opportunity for it to have at least been marginally enjoyable. The story has already written itself through real life events of Don Aronow and has been told countless times in dozens of true crime movies, you've got a former megastar in Travolta who's been known to give erratic and gloriously OTT performances a la Nic Cage, but probably most damning of all there's a wealth of talent behind the camera completely gone to waste. The production notes of Speed Kills list the likes of co-scriptwriter David Aaron Cohen, who also penned the devilishly entertaining Keanu Reeves picture The Devils Advocate, along with Cinematographer Andrzej Sekula who captured the likes of Reservoir Dogs (!) Pulp Fiction (!!) and American Psycho (!!!) having been involved, but there's no trace of their artistic flourishes to be found here.
Unfortunately then, what's left is a wrecked vessel of a movie that is probably best being left to drift alone, eventually to be forgotten at the bottom of the bargain bins.
We Liked
Some of the boats are nice, I guess
We Didn't Like
Amateurish montages and use of stock footage
Flimsy, hard to follow story that never taps into the main characters desperation resulting in him turning to the mob
Waste of talent both in front and behind the camera