The Details
Item Reviewed
The Sisters Brothers
April 10, 2019
Release Date
5th April 2019 (UK)
Synopsis
In 1850s Oregon, the infamous duo of assassins, Eli and Charlie Sisters, chase a gold prospector and his unexpected ally.
Starring
Joaquin Phoenix, John C Reilly, Jake Gyllenhaal, Riz Ahmed
The Sisters Brothers is an oddity. It's a film that I liked overall, but the weight of disappointment was felt on my shoulders. I was invested in its characters and story but never captivated by it. But what's more perplexing is that it's hard to distinguish why. At its best this quirky Western spins an interesting story on the early industrialisation of America, with all the promise and greed it brought. But never does it focus enough on any one theme or narrative to justify itself. Instead, it breezes through various tangents, almost aimlessly at times, in a similar way to 2017s Downsizing. Despite my best intentions, I was left feeling empty and confused.
John C. Reilly (Stan & Ollie, Wreck It Ralph) and Joaquin Phoenix (Gladiator, Walk the Line) star as Eli and Charlie Sisters, a pair of sibling assassins who are tasked with finding and killing Hermann Warm (Riz Ahmed: Venom, Four Lions), a gold prospector with a miracle formula that will apparently make gold simple to find. The Sisters boss The Commador (Rutger Hauer: Blade Runner, Sin City) wants the formula for himself and tasks the brothers to retrieve it. Meanwhile, fellow assassin John Morris (Jake Gyllenhaal: End Of Watch, Nightcrawler) is brought in to help, but his intentions seem to be skewed.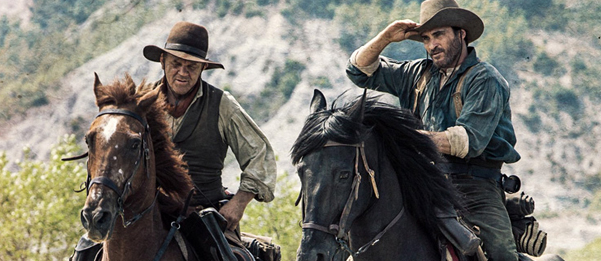 The film starts very promisingly with an artfully staged shootout in the dead of night. The guns explode like fireworks as the brothers hunt down their latest target. We see how they work and bicker together, Charlie (Phoenix) being the younger, more headstrong and cocky of the two and Eli being more reserved but envious of his brothers leading position. The chemistry between Reilly and Phoenix is the films best quality and both actors do commendable jobs in fleshing out the brothers into a believable, downtrodden pair.
Pacing is noticeably slow, which was never too much of a problem for me as it gave the film a textured feel. The towns felt lived in and you could almost smell the grassy plains as the brother's journey to their target. This is a great compliment to director Jacques Audiard as its something very few directors can pull off. The downside is with the films shifting narrative and tone that never lays down a stable foundation for the film to sit. There are distractions that add little in terms of plot and the momentum of the film is lost. Suddenly motives of characters change with no consequence and the buildup of events is never paid off. This is a problem that lasts through the entire runtime and jeopardises a satisfying ending. Instead, it feels hollow and unearned.
It's not particularly surprising that The Sisters Brothers has flopped at the box office. Its arthouse approach hasn't found an audience and it's comedic focused marketing doesn't help sell a largely dramatic film. It feels awkwardly caught somewhere between mainstream and niche and unfortunately never finds its feet. So I'd argue that it won't satisfy either audience enough to warrant a second viewing. At best it is a film that you will find enjoyable at the moment but also frustrating. Just like I did.
We Liked
Genuine chemistry between the leads
Location has texture
Some artful and clever editing
We Didn't Like
Too odd for its own good
Unearned and flat ending
Meanders to the point of confusion