The Details
Release Date
19th September 2019 (UK)
Synopsis
Rambo must confront his past and unearth his ruthless combat skills to exact revenge in a final mission.
Starring
Sylvester Stallone, Paz Vega, Yvette Monreal
If you were able to go back in time and tell the moviegoers who watched 1982's Rambo: First Blood in theatres that the character, and indeed lead star Sylvester Stallone (The Expendables 3, Backtrace), would still be going strong nearly 40 years later, they'd most likely laugh you out of the auditorium.
But here we are in 2019 and the troubled Vietnam vet is still seeking vengeance against those who wronged him. This time, the unfortunate victims of John Rambo's brand of justice are Mexican human traffickers who have kidnapped his close friend's granddaughter, Gabrielle (Yvette Monreal).
Seeking answers as to why her dad would abruptly leave his family and on a tip from an old 'friend', Gabrielle goes against Rambo's warnings and heads to Mexico to confront him. Lo and behold, John's worst fears come true when Gabrielle is taken by a violent duo known as The Martinez Brothers, notorious for their involvement in trading women for sex slavery.
Heading to Mexico to find Gabrielle and punish those responsible for her kidnapping, Rambo quickly discovers these thugs are without mercy or morals and don't discriminate when it comes to delivering a bloody beat-down. Unluckily for them and their crew, Rambo hits back harder.
Nowadays, the senior soldier packs as much medication as he does ammunition. He's more relaxed as he wrangles horses on his inherited (and tunnel-featuring) ranch, doing what he can to 'keep a lid' on the inner rage. But that lid is blown sky-high when the crooks mess with his loved ones, much to our enjoyment.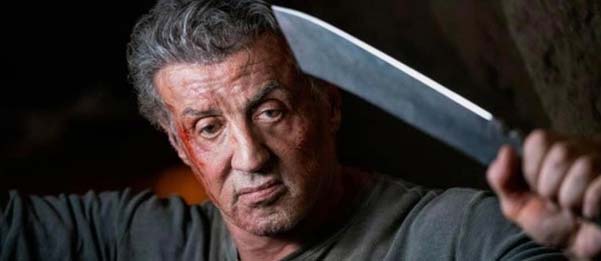 Fortunately, Stallone is still in great shape to look the part but is very aware of his physical limitations at the young age of 73. There aren't any extended scenes of him creakily running or unconvincingly diving from explosions, instead opting for meticulous booby-trapping of his home and underground trench system, much like an exceedingly gruesome Home Alone spin-off. This means the bad guys essentially cause their own demise with the credit going to Rambo for luring them in, but either way Rambo: Last Blood is undoubtedly the goriest of the series. It may be the last blood that is being shed, but there's plenty of it with beheadings, dismemberments, and graphic injury detail being the order of the day.
At 89 minutes, it's a welcomingly brisk affair with the film's three acts being broken down into half-an-hour increments – it opens with the family drama and predicament, then Rambo's Mexico investigation and finally culminating in the ranch showdown. It's leave-your-brain-at-the-door stuff, and is all the better for it. That's not to say it's entirely formulaic; Rambo: Last Blood still manages to throw a few narrative curveballs to keep the story interesting enough to be invested in.
There's not a whole lot more I can say about Rambo: Last Blood. It's an unashamedly brutal actioner featuring one of the few remaining bona fide action heroes successfully reprising a role which defined him. Only time will tell if the fifth outing is genuinely the last, but if so then Rambo can ride into the sunset, confident that his final mission was a successful one.